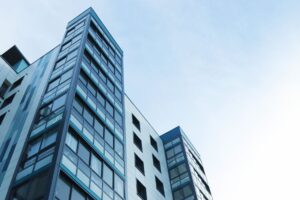 Georgia's most populous county, which includes most of the City of Atlanta, is not considering enacting a temporary eviction ban, despite having a backlog of landlord-tenant cases awaiting magistrate court judges, as well as millions of dollars in unspent federal rent relief money.
Fulton County spokeswoman Jessica Corbitt told Atlanta Civic Circle on Wednesday that the county's superior court is "not contemplating an eviction moratorium at this time."
"Where possible," she added, "they are continuing to refer individuals to rental assistance programs."
The court did not explain why it's not exploring the possibility of a temporary halt of eviction proceedings — something neighboring DeKalb County has enacted and which legal professionals and housing experts have demanded — Corbitt said.
Fulton, however, is lightyears ahead of most of the state when it comes to distributing federal emergency rental assistance (ERA) money, having disbursed almost all of its $18 million first batch of funds and soon to begin chipping away at the second tranche of cash, a $24 million purse.
The county, too, recently lifted the cap on the amount of money renters and landlords can request from the federally funded program it's administering and extended the length for which those people can get assistance from six to 18 months.
Still, though, Fulton's magistrate court is processing landlord-tenant cases — and proceeding with dispossessory action — and the legal organizations fighting those evictions say local moratoria would buy much-needed time for governments to get rental assistance money to those in need.
When the U.S. Supreme Court vanquished the Centers for Disease Control and Prevention's (CDC) nationwide eviction ban, an already mounting housing crisis became all the more urgent, and Georgia is one of the slowest states in the country to allocate its ERA cash.
Susan Reif, a housing attorney with the Georgia Legal Services Program (GLSP) and the head of the organization's eviction prevention charge, told Atlanta Civic Circle on Wednesday that GLSP is "in favor of any change that would make it easier to get access to the ERA money. I understand we have to abide by [U.S. Treasury Department] rules, but we have to look closely at what we require of people."
She's nodding to the need to cut the bureaucratic red tape that can make accessing assistance cash cumbersome — a desire also expressed by the heads of the Atlanta Volunteer Lawyers Foundation, Michael Lucas, and the Atlanta Legal Aid Society, Steve Gottlieb.
"As a housing attorney," Reif continued, "I'm in favor of anything that helps people stay housed, and local eviction moratoria would do that for sure."
Reif, like Lucas and Gottlieb, know a statewide eviction moratorium — like the ones in California, New York and Illinois — would be a godsend for the hundreds of thousands of Georgians at risk of displacement, but she knows such an order is unlikely to come from Gov. Brian Kemp's office.
Kemp's office, as well as the Georgia Department of Community Affairs (DCA), which is charged with handling most of the ERA money, have ignored Atlanta Civic Circle's requests for comment regarding the prospect of a statewide eviction moratorium.
It's relatively unclear why eviction moratoria — widely regarded as the most powerful tool to prevent displacement in the wake of the COVID-19 pandemic — aren't more common, although it seems landlord lobbies oppose them.
More on Atlantaciviccircle.org
Contact JD Homes
At JD Homes, we specialize in local property management and can assist you with all of the services that you need from dispossessory evictions, to rent collection and more.
To learn more about the property management services that we can offer you, contact us today by clicking here or calling (770) 506-2630 or click here.