Managing rental properties is a complex task, especially when it comes to keeping track of which tenants are paying on time and who has outstanding balances. If you're not maintaining an accurate paper trail and organizing your finances, your investment property can quickly become your greatest nightmare.
A rent ledger is invaluable for property managers, landlords, and accountants, as it makes your life much easier when paying taxes and settling landlord and tenant disputes.
In this article, we'll discuss what a rent ledger is, how to create one, and the many benefits of having one.
What is a Rent Ledger and Why is it Important?
A rent ledger keeps a record of monthly rent payments and the charges and balances of each of your tenants. Whether you have one rental unit or 100, maintaining a rent ledger is crucial for property managers and real estate investors because it helps them quickly identify each tenant's rent payment status. In business terms, your rent ledger is like your accounts payable and accounts receivable ledgers.
Your rent ledger also identifies the following:
Payment history
Outstanding balances (if any)
Any late fees
When examining a rent ledger, you'll see what you should be collecting and how much you're owed from tenants who aren't paying their rent. You can also identify patterns, such as late or missed payments, and address them to the tenant if needed.
Who Can Benefit From Using a Rent Ledger?
Landlords and property owners
Landlords and property owners use rent ledgers to track payments and identify the amount of rent they're owed (if any).
Also, rent ledgers can keep track of security deposits. As a landlord, you're responsible for protecting your tenant's security deposit and can't use them for personal expenses. If you mix your business funds with a tenant's security deposit check, you're commingling, which is illegal.
Rent ledgers are also very handy when you're trying to sell a property. Your ledger documents the property's income potential, which will help buyers decide whether or not they want to go through with the transaction.
Tenants
Rent ledgers help tenants keep track of when they're paid rent and what they owe. If they're also getting rental receipts from their landlord, they can compare the information on the receipts with that of the ledger to ensure the information is accurate. If it isn't, the landlord can update it as needed.
Rent ledgers also offer tenants a paper trail in case they ever have to dispute rent payments or risk eviction.
Real estate investors
Like landlords and property owners, real estate investors use rent ledgers to identify how profitable their investments are. This information helps them calculate their return on investment (ROI) and internal rate of return (IRR) to determine the value of their investment. If it's not as much as you thought it would be, you can make an action plan to increase these values.
Lenders
Rent ledgers help lenders identify a property's net operating income (NOI), which is how much leftover cash you have after collecting rent and paying for operating expenses. Similarly, the ledger shows lenders a property's vacancy rates. If an apartment complex has 50 units and five vacant units, the vacancy rate is 10%.
Also, a rent ledger can identify a property's debt service coverage ratio (DSCR). The DSCR compares a property's monthly mortgage payment to its NOI to identify the owner's cash flow after the mortgage payment of operating expenses has been paid. Typically, lenders look for a DSCR of 1.20 or greater.
Let's say your fourplex generates a gross monthly income of $6,000 and has no vacancies. The NOI of the property is $1,200, and then the mortgage payment is $3,000. Your DSCR is ($6,000 – $1,200) / $3,000, or 1.6.
Home buyers and sellers
Rent ledgers give buyers insights into how much revenue a property is making. They can use this to calculate their projected ROI and/or IRR and decide whether or not the property is worth buying.
Similarly, sellers can use this information to determine their property's fair market value. This information can also help them identify opportunities to improve their NOI or DSCR, making their property more desirable to buyers.
Benefits of Having a Rent Ledger
To recap, here are the many ways having a rent ledger can benefit you:
Keep track of rental payments and security deposits
Identify problem areas or patterns
Aid in rental or eviction disputes
Realize new opportunities to improve your ROI, IRR, NOI, and DSCR
Determine a property's fair market value
Determine whether a property is worth buying or selling
How to Make a Rent Ledger
Rent ledgers can include a lot of information. Many landlords and investors use a rental ledger template to keep it simple.
Creating a rent ledger template is pretty simple. Start by filling out the essential information regarding your property. You should include the following:
Property owner's name
Property address
Type of property
Lot size
Zoning of use
Date of report
Next, fill out all the information regarding a specific unit of your property, including:
Tenant name
Tenant's address
Square footage of the property
Number of bedrooms and baths
Lease start date
Lease end date
Monthly rent payment
Additional rent (e.g., parking, storage, etc.)
Rent due date
Paid date
Security deposit
Additional notes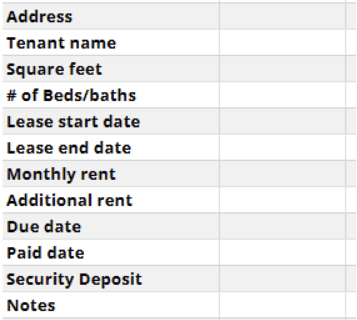 Finally, print and sign your name at the bottom of the ledger:

Regularly update your rent ledger to ensure your information is accurate.
Contact JD Homes
At JD Homes we specialize in local property management for the Atlanta GA area.
If you're tired of managing your rental property yourself, contact us today by calling (770) 506-2630 or click here to connect with us online.